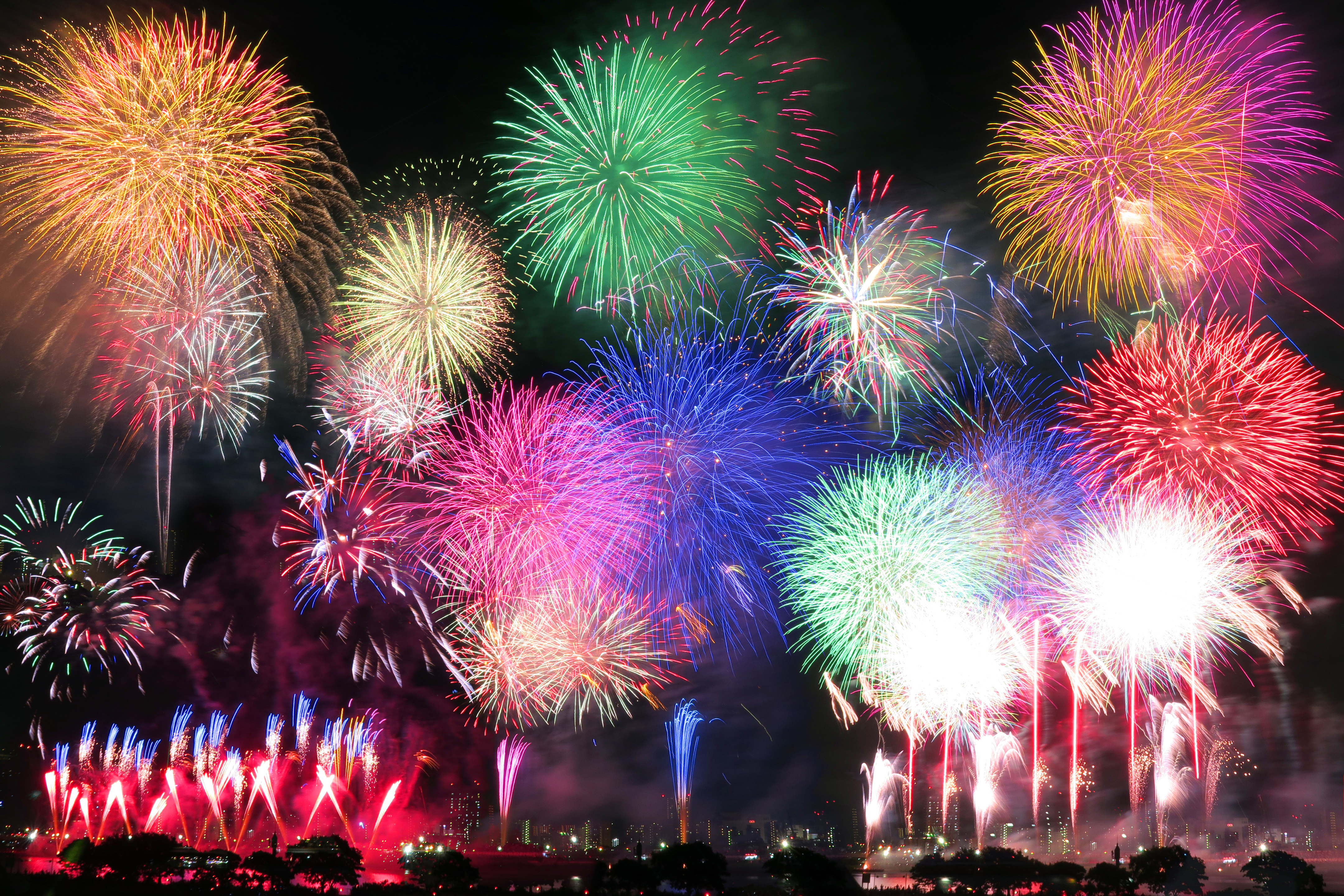 Even though I'm from the Philippines, I'm not really a big fan of Japan's absurdly humid summer. However, last year, during my first summer in Tokyo, a coworker invited me to watch the fireworks in Edogawa. That experience gave me something to look forward to when summer arrives.
You can imagine how impressive the fireworks festival is, that hundreds of thousands of people are willing to brave the crowds, heat and mosquitoes in the summertime. If you're in any of these places in Tokyo, make sure you don't miss the opportunity to be wowed by these amazing shows.
| | | | | |
| --- | --- | --- | --- | --- |
|   | Area | Day | Date | Time |
| Adachi Fireworks Festival | Adachi | Saturday | July 20 | 7:30-8:30PM |
| Katsushika Fireworks Festival | Katsushika | Tuesday | July 23 | 7:20-8:20PM |
| Sumida River Fireworks Festival | Taito | Saturday | July 27 | 7:00-8:30PM |
| Koto Fireworks Festival | Koto | Thursday | August 1 | 7:30-8:30PM |
| Ichikawa Shimin Fireworks Festival | Edogawa | Saturday | August 3 | 7:15-8:30PM |
| Edogawa Fireworks Festival | Edogawa | Saturday | August 3 | 7:15-8:30PM |
| Itabashi Fireworks Festival | Itabashi | Saturday | August 3 | 7:00-8:00PM |
| Tokyo Fireworks Festival | Minato | TBA | TBA | 7:10-8:30PM |
| Jingu Gaien | Shinjuku | Saturday | August 10 | 7:30-8:30PM |
Of all these, the Sumida River Fireworks Festival (3rd in the list) is the biggest and one of the oldest. It will be held in two locations, one around Sakura Bridge, where more than 9,000 fireworks will be launched, and the other in Komagata Bridge, where there will be more than 10,000 fireworks launched. All in all, attendees will see about 20,000 fireworks in one night! Wow!
Ten companies will be outdoing each other in the pyrotechnic competition. And the scoring and evaluation will be used to improve pyrotechnic technology in the next following years. It would be a waste to not see Tokyo's biggest summer event especially if you already live here or are visiting at the time of the event.
The event will be held close to some of Tokyo's most iconic tourist spots, specifically the Sensoji Temple in Asakusa and the Tokyo Sky Tree. So you could come early, walk around these areas and flock along with the rest of the spectators to the viewing areas come nighttime.
The banks between the Komagata and Umaya bridges are the most sought-after locations for the viewing so make sure to head on early.
Fill your backpacks with snacks, drinks, umbrellas or raincoats in case there's a slight drizzle. In case of stormy weather, most of the events mentioned above will be postponed to the next day.
By Starr Gimotea/ Staff Writer